Simi has shared her recipe for Kookoo Sabzi with us. Kookoo Sabzi, of Green Kookoo, is a beautiful light herb-filled frittata studded with walnuts and barberries.
When you taste it you'll see why this delicious Persian dish is a traditional food for the first day of Spring in Iran. What could be lovelier in the middle of winter with an excess of stodgy, winter food, than a hint of spring!
Simi is a cookery teacher at
Simi's Kitchen
, as well as being a recipe writer, allotmenteer, Supper Club hostess and Iranian food tour guide, based in Bath.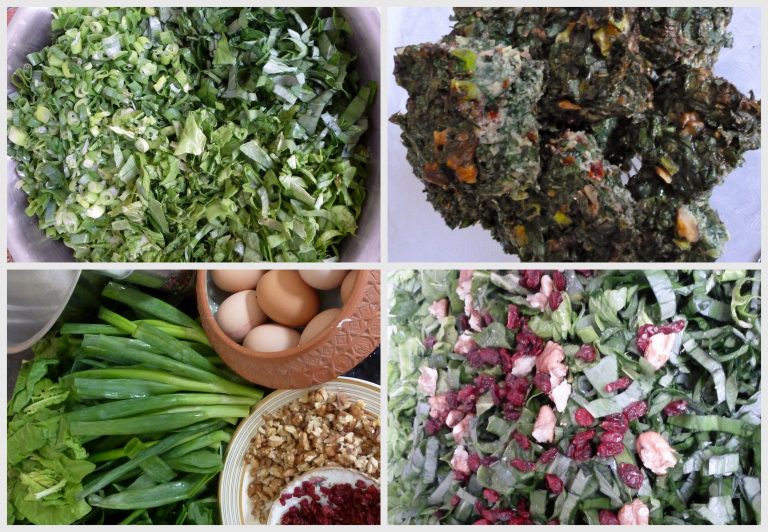 Kookoo Sabzi Recipe (vegetarian)
Serves 4 as a starter & 2 main course.
Ingredients
150g washed and finely chopped green part of the spring onions or chives. In wild garlic season, substitute 50g of this for finely chopped wild garlic.
100g washed and finely chopped spinach
3 eggs
40g small handful of chopped walnuts – 30g in mix and 10g to decorate with
20g small handful of barberries
Small handful chopped walnuts
3 tablespoons of plain flour (use gram flour for gluten free)
Salt & pepper
Tip of teaspoon turmeric (optional)
2- 3 tablespoon of oil of your choice for frying and some butter.
Method
Put the chopped herbs into a large bowl and add 2 tablespoons of flour and stir. Add the nuts and berries, mix and add to the herbs and stir.
Put oil into your frying pan, at this point crack the eggs into a separate bowl and stir.
Season the kookoo with ½ teaspoon of salt and ¼ teaspoon of fresh cracked pepper and fry it.
Add most of the egg (don't add all of it) into the herb mix, it shouldn't look like it doesn't have any egg but it shouldn't be sloppy either.
Pour the mix into the frying pan, smooth the top and turn the heat down after 2 minutes as it needs to be sizzling at first.   You'll notice the oil bubbles blipping around the edge of the frying pan.
Turn the heat to low and let it gently set on the bottom – it'll take 20 – 25 minutes or so, it should be crisp.
At this point, it is your choice: you can either put a plate over the pan, turn the kookoo, and slide it back in so the other side cooks, or you can cut it in quarters and turn the pieces individually.
It needs another 15 mins on a gentle heat to cook and crisp up.  Check to see if is done by poking a knife in it: if it comes out clean, it is ready (like a cake).
Serve with yogurt, salad and flat bread. This can be served hot, warm or cold.
Allergens: Eggs and nuts.
If you'd like to make kookoo gluten free use gram flour, serve with gluten free wraps or pitta bread.
If you'd like to make kookoo dairy free then use vegetable based oils and dairy free yogurt to serve.
Noushe jan – may it be good for your soul!