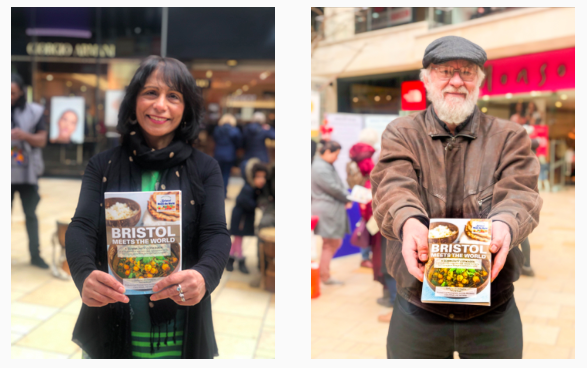 The Bristol Meets the World cookbook was the result of a 2 year collaborative project, run in partnership with local organisations including Bristol Ageing Better, Bristol Avon Chinese Women's Group, Brunel Care, Anchover Hanover, and the Pakistani Welfare Organisation. During the project we ran regular cooking sessions for over 50's, aiming to combat lonlieness and isolation and taught by our community cooks. 
Cooks from many cultural backgrounds were invited to share recipes and cook with small groups in areas throughout Bristol including Southmead, Kingswood and Knowle West, alongside groups from care homes and welfare organisations. Each cooking session was finished with a communal meal with cooks, participants and volunteers all sitting together to enjoy a delicious lunch.
All of the recipes were selected to be simple, to include ingredients which can be easily sourced, and to be tasty and nutritious. The Bristol Meets the World cookbook is a celebration of these sessions and the project, and contains recipes from all of the sessions delivered by the partners. 
The Bristol Meets the World cookbook has now sold out. Thank you to everyone that bought a copy – we hope you enjoy using it and would love to hear about anything that you make. If you missed out, there are lots of delicious recipes available on our blog, and we are already working on our exciting next project. Sign up to our mailing list to be the first to know more details.