We are delighted to announce the launch of our community cookbook, Bristol Meets the World! The cookbook features recipes compiled over a two year project, working with over-50's across the city to combat loneliness and isolation.
Cooks from many cultural backgrounds were invited to share recipes and cook with small groups in areas throughout Bristol including Southmead, Kingswood and Knowle West, alongside groups from care homes and welfare organisations. Each cooking session was finished with a communal meal with cooks, participants and volunteers all sitting together to enjoy a delicious lunch.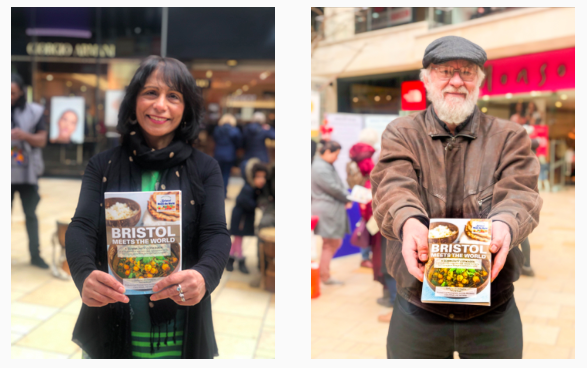 The cookbook is a celebration of Bristol's diversity and is a collection of the recipes shared in these cooking sessions by Bristol cooks from Vietnam, India, Poland, Iran and Eritrea among others. We are selling the book to raise vital funds that we need in order to continue our work, and all profits will go towards supporting our future community projects across the city.
Bristol Meets the World was a collaborative project between 91 Ways, Avon Chinese Community Wellbeing Society, Anchover Hanover, The Pakistani Welfare Organisation, Brunel Care and The Care Forum.
We hope that you will buy it, read it, enjoy it, and most of all – cook from it!