Viviane is an amazing supporter of 91 Ways, always helping at our events, ready with smile and her apron! Viviane has been busy creating beautiful Christmas cakes and we were lucky enough to have one to raffle at our last Supper Club. She has made 8 this year for friends, family ,and as prizes in raffles. 
Viviane describes the cooking process as "therapy" and loves to see how happy they make people. We need more cake and more people like Viviane in the world! 
Viviane uses a lovely recipe that is alcohol free and has the surprising addition of chai to give it depth and colour.   The recipe was featured on a website called Dry Times – what you do if you don't drink and the recipe is from Dr Janis Callister. The candied fruit piled high are her special finishing touch!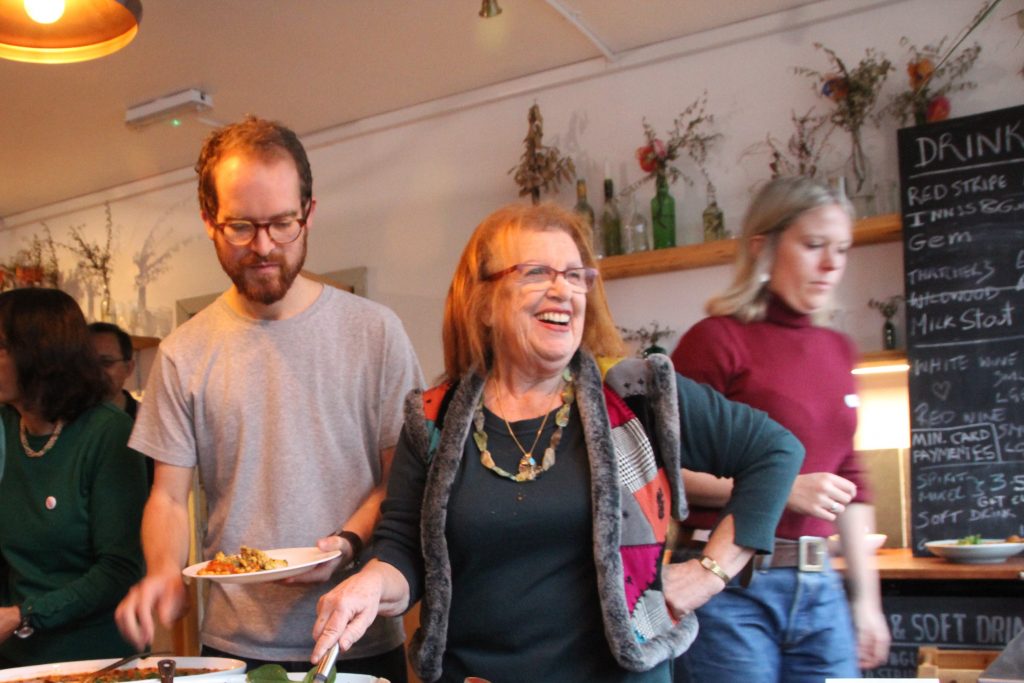 Chai Spiced Christmas Cake Recipe
Ingredients
1 kg Mixed dried fruit (I used around 750g ready mixed fruit: raisins, currants, sultanas and mixed peel, plus 150g chopped ready-to eat dried apricots and 100g cranberries)
2 Chai Teabags
2 tablespoons Sarsparilla Cordial
1 tablespoon vanilla syrup (the kind you use in coffee)
225g butter
225g soft dark sugar
225g plain flour
1/4 teaspoon fresh ground nutmeg
1/4 teaspoon ground ginger
1/2 teaspoon ground mixed spice
1 Piper longum (long pepper) bashed (substitute with a few peppercorns)
1/2 teaspoon of salt (only if using unsalted butter)
4 large free range eggs, beaten
1 dessert/soup spoon/blob of treacle
50g chopped walnuts
Method

Preheat the oven to 150 degrees celsius.

Place the fruit into a large bowl, and steep the two chai teabags in 25oml of boiling water for five minutes, then remove the teabags and pour the tea over the fruit, following with the Sarsparilla cordial and the vanilla syrup.
Cover and leave for about two hours (but no more, as the lovely rich colour will drain from the fruit). Drain the liquid and reserve. Add the walnuts and mix in.
Cream the butter and the sugar until light and fluffy. Sift flour and spices separately in a large  bowl. If using a stand mixer, use a low speed (Kenwood- speed 2).
Gradually add the beaten eggs to the creamed butter and sugar mix with patience, adding a small amount at a time until they are well mixed in. Take this mixture and add half the mixture to the flour, folding in gently with a big metal spoon. Add the treacle.
Next add half the fruits and nuts, and fold in. Follow with the remainder of flour, and again the remainder of the fruits. Check the consistency, and add some of the reserved tea mixture strained from the dried fruit so that it has a soft dropping consistency, between 1-3 tablespoons (if you fruit was very thirsty and took it all up- brew a little more!).


For the cake tin, use an 8 inch (20 cm) round cake tin or a 7 inch (18 cm) square tin, greased and lined with silicone paper (baking parchment). Add two layers of parchment on the outside to above the level of the tin too.
Transfer the cake mixture to the tin, spread well to the corners (if square!) and add a small indent to the centre to encourage a flat bake.
Finish by covering the top of the cake with a double square of silicone paper with a 50p-size hole in the centre (to protect it during the long slow cooking).
Bake in the oven at 150 degrees for 2 hours, then drop the temperature to 140, and bake for a further hour and a half.  Check it is baked by inserting a cocktail stick.  If it doesn't come out clean, continue to cook until it does so. Making Christmas cake is a slow process, enjoy it!
Once finished, let cool for 30 minutes in the tin, then transfer to a wire rack until completely cool. Store in an airtight container and allow to mature for at least a couple of weeks.
You can then 'feed' the cake once in a while,  if you wish. Traditional cakes would be fed with Brandy or a similar spirit – the alcohol helps to preserve the cake. Adding too much non-alcoholic liquid, however, may have the opposite effect. So if you would like to feed the cake I recommend using a very small amount of a sugary liquid, with some extra flavours added. I'll be feeding mine with a small amount of strong black chai tea boiled with some dark soft brown sugar to make a syrup.
Once you are content with your cake, you can marzipan and ice it or as Viviane does … pile it high with jewel like candied fruit!