Brinda is our wonderful Mauritian chef who already has a supper club under her belt, she's also the food blogger behind brindabungaroo.com. She shares recipes inspired by her family's respect for the value of ingredients,  humble dishes with a lot of meaning and a touch of spice.
"In Mauritius we were brought up to respect food as a necessity. We would use fresh ingredients from our home garden, my father's allotment and, with the bare minimum, enjoy delicious meals with the whole family.
My Mum always taught us to respect food no matter how expensive or cheap, it's all in how it is prepared."
Brinda's Recipes
As for the two recipes, both have bright colours and are spruced up with a touch of spice. Without forgetting they are both typical Mauritian dishes, I have adapted with my own spices.
Not only easy to make but humble dishes that almost anyone can afford to buy. They are staple food that can be enjoyed both hot and cold therefore perfect for quick meal, lunch , sandwich filler or even plated with rice or bread.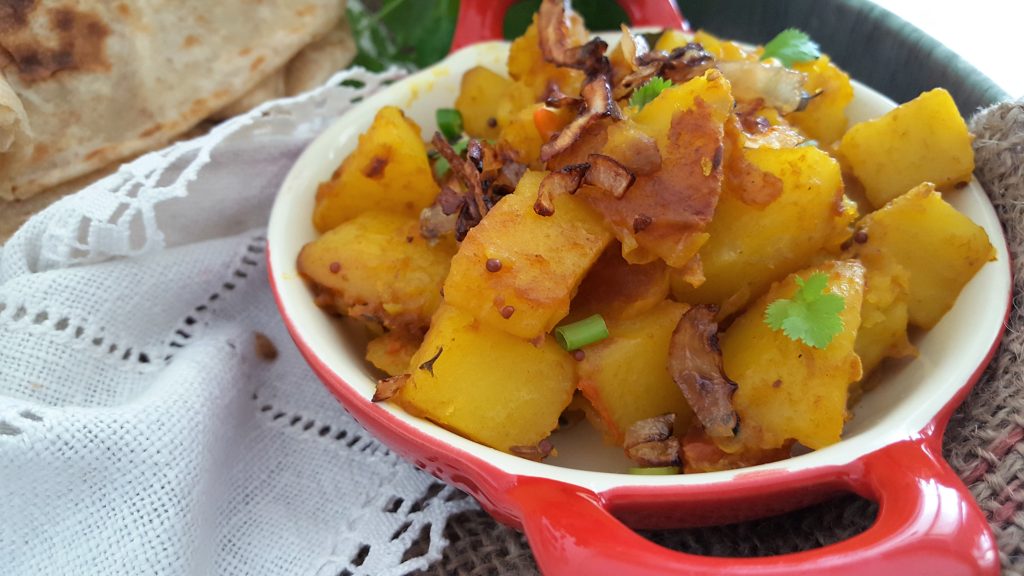 Cumin Potatoes (Jeera Potatoes)
I love making this dish, it's so easy and flavoursome. It can be made in very little time, and also a good way to use leftover boiled potatoes. The fried whole cumin seeds have a unique slightly nutty flavour. I like these delicious potatoes wrapped in either chapati or pharata or simply with boiled rice. Alternatively it makes a great accompaniment with roast meat or fish. A great vegetarian, vegan dish to please many. Perfect side dish…
Ingredients Serves 4-6 Cooking Time: 10-15 minutes
250gms potatoes

1 Tbs vegetable oil

1tsp ghee

1 medium onion finely sliced

1tsp roasted cumin seeds

½ tsp turmeric powder

Curry leaves 4-5 fresh leaves

1 Tbs garam masala

Salt to taste

Water

1 tablespoon oil

Fresh chopped coriander

Method
Wash, peel and cut potatoes in cubes, if using new potatoes you may leave skin on if you prefer.

Place the cubed potatoes in a microwave steamer, add a little salt sprinkle with some water and steam in the microwave for 4-5 minutes. (Alternatively you may bring the potatoes to a boil in water and a pinch of salt. Cover and let boil for 5-8 minutes until just cooked).

Heat oil in a large non-stick pan over medium high heat. Add the sliced onion fry, followed by the curry leaves, cumin seeds, garam masala and fry 30-60 seconds.

Add the turmeric powder; stir fry for 1-2 minutes, taking care the spices don't burn. At this point if the spice mixture is too dry add some water to create some steam.

Add the half cooked potatoes, shake pan and fry potatoes about 10 minutes, stirring occasionally, until evenly golden and crisp. (The trick is not to stir too frequently; otherwise the potatoes will get mushy). Taste for seasoning.

Remove from the heat, drizzle ghee on top and stir in the fresh coriander.
Brinda's Note: Adding ghee is one of my mum's tips, only by simply adding some ghee at the end of most vegetarian dish enhances the flavour. Who can deny a mother's tip on cooking especially when she is a wonderful cook.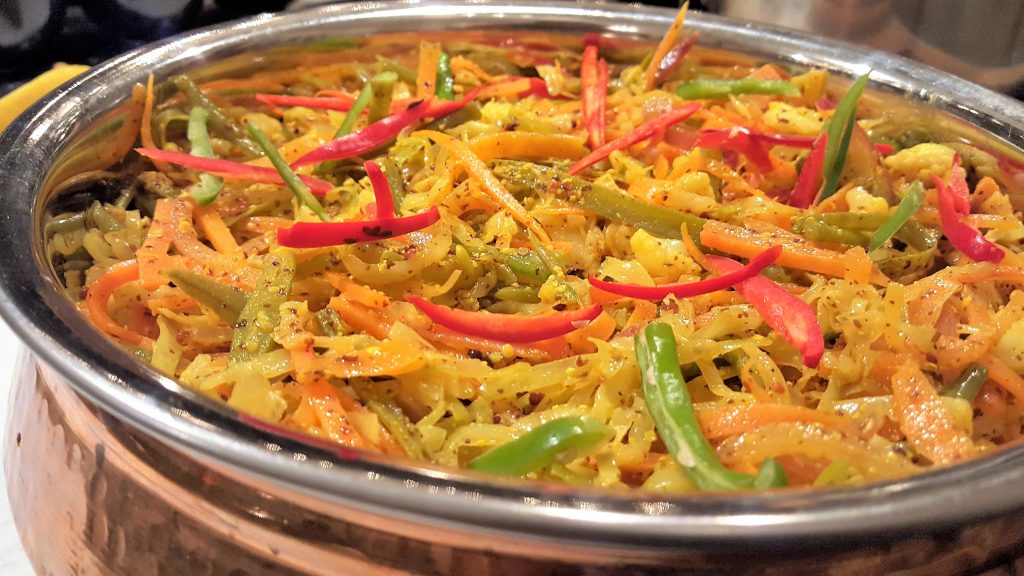 Vegetable Pickle – "Zasar Legumes"
Who can say No to a "Zasar Legumes". A very popular vegetable pickle with a medley of colours all in one dish. My version is quite simple and quick, it is one that will keep for a few days in the fridge. I don't overcook my vegetable simple blanche them and add the pickling ingredients to the vegetables. This is a very popular dish in Mauritius served with crusty bread and a perfect vegetarian side dish – spices, vegetable, chillies, fresh taste and colorful little side accompaniments stocked up in the fridge.
Back in Mauritius this mixed pickle is very popular almost any time of the year, and makes a perfect picnic bread roll filling.
Ingredients
Carrots – peeled thinly cut into strips
Cabbage cut thinly
Few green chillies – sliced
Green beans – thinly sliced
Few shallot slices lengthwise.
Oil – 4 Tbsp plus extra to drizzle on top
1 Tbs mustard seeds – coarsely ground
½ Tbs turmeric powder (I use the Vindaye mix spices)
Curry leaves – finely chopped
1 tsp fenugreek/ Methi seeds (toasted and ground)
Pinch of Asafoedida (hing)
1 tsp Kashmiri red chilli powder – to add both the heat and colour
Lemon juice or white wine vinegar
Salt – for the pickling and for the spices.
Method
Prepare all the vegetables as suggested above.
Start by blanching (Blanching means put it hot water for a few minutes until they soften) u them one at a time, starting with carrot, beans followed by cabbage. The reason to do this is simply to semi-cook the vegetable and this helps with the preserving process.
Remove from the water drain in a large colander to remove all the water.
Spread all the drained vegetable on a clean cloth or kitchen towel and leave to dry removing any excess water. Occasionally using a fork spread the vegetable to allow all the vegetable to air dry.
Once all excess water have been absorbed on the tea towel start preparing the spices.
In a wide pan add oil, once it's hot add the mustard seeds, curry leaves, Asafoedida, ground fenugreek, turmeric and salt followed by the Kashmir red chilli – the aroma will be intense watch out for the chilli smoke. Add the sliced onions.
Turn the heat down or switch off and start to add the vegetables toss well to make sure the spices coat all the vegetables are well mixed.
Add the vinegar and the green sliced chillies, taste for seasoning and adjust as necessary. Leave to cool completely. Drizzle a little oil.Enjoy with fresh bread, Bon Appetit.