Brinda Bungaroo, our Mauritian Supper Club cook, shares with us a dish that reminds her of home and her mother's cooking.
"This simple and easy to make dish is a very typical home cooked food in most Indian households. My mother used to make this dish for us and everyone in the family loved it. Living as an extended family meant that she needed to have dishes that were easy to share amongst all – Spinach & Dal was always a winner.
It is quick to prepare and full of goodness, especially with the addition of spinach which means it's packed full of protein as well as iron, so whenever I feel I need a good energy boost this dal is perfect; it revives me!
This wholesome dish is a perfect accompaniment with any other dishes and especially great with simple boiled rice, Roti, Pharata, Pitta, Naan or even fresh or toasted bread."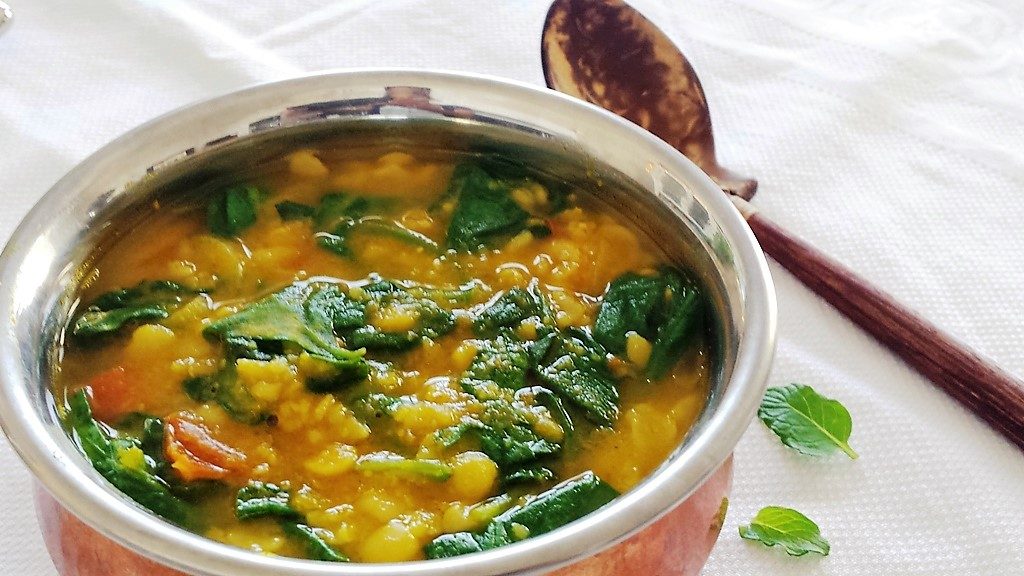 Ingredients Serves 4-6
150gms yellow spilt dhal or Mung lentils
200gms baby spinach leaves – (you can use frozen spinach leaves they turn out as good)
900 mls water
2 Tbs vegetable oil or ghee to cook – (extra ghee to drizzle on top)
1 medium size onion, finely chopped
1 tsp cumin seeds
2 cloves of garlic (paste)
1 tsp ginger paste
¾ tsp turmeric powder
2 medium size tomatoes – chopped
Few curry leaves
½ tsp garam masala
2-3 whole cloves
2 whole green chillies (optional)
Chopped fresh coriander leaves
Salt to taste
Method
Wash the dhal in cold water. Place the washed dhal/lentils in a deep saucepan. Add the water, cloves, Bay leaves, salt and bring to the boil, then simmer for around 15-20 minutes, until the dhal/lentils start to break down and become soft. (You will need to keep an eye when boiling dhal stirring occasionally and removing the white foam like scum that comes up as the dhal comes to a boil).
Meanwhile, heat the vegetable oil or ghee in a saucepan start to prepare the spice mixture (tarka). Add the sliced onions, cumin seeds, curry leaves, turmeric, ginger and garlic.
Stir all together until golden in colour, add the garam masala, chopped tomatoes, spinach leaves and cook on a gentle heat until the spinach have wilted not but not mushy.
Now add the cooked dhal/lentils to the saucepan and leave to simmer for another 5-10 minutes until all the spices have incorporated into the dhal. Taste for seasoning and add as necessary. Add a handful of the chopped coriander into the mixture.  If you are adding chilies, leave them whole and add at the end as a garnish.
Before serving add the rest of the chopped coriander leaves as a garnish. Serve with your desired accompaniment.
Brinda's Note: You can always add some tempering spices and fried onion on the top to serve.