The broadcaster and life coach Sangetta Dewan shares with us her mother's Chana Masala recipe, a simple and hearty classic that is her favourite dish to cook for family and friends.
A Story of Mother's Love and Welcome
"This recipe brings back fond childhood memories of Sunday mornings in my house. I would awake to the delicious aroma of spices floating through the house as my mother worked in the kitchen in preparation for friends and relatives popping in.
It was open house in our home on a Sunday and anyone was welcome.  When they came my mother would make sure they ate.  When I cook this dish it transports to those happy childhood days, and the love my mother showed us through her wonderful cooking. Chana masala is not only a nourishing and hearty dish, it is comforting and sharing it is a way of nurturing those around you – it's an expression of love.
There are variations throughout India and it's an easy recipe to cook which is probably why my mother chose this to make to feed so many people. She always tried to use the best and freshest ingredients available.
Don't worry if you make too much because leftovers can be kept in the fridge for a few days and the flavour develops even more over time."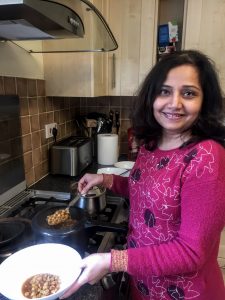 Ingredients
2 cups of chickpeas – you can soak them overnight or use canned chickpeas if you prefer
Tarka Ingredients
2 Tbs veg oil
I medium onion – finely chopped
1 inch ginger – chopped
Salt to taste
1 tsp garam masala
1/2 tsp turmeric
Half tin tomatoes
Oil – 3 tbsp
1 tbs tamarind paste
A small handful of fresh coriander leaves
1 green chilli – roughly chopped – optional.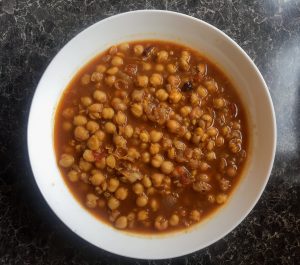 Method
Boil the chickpeas in hot water in a pressure cooker for 40 minutes – add salt and 1tsp of turmeric powder
Heat up the oil in a frying pan.
Gently cook the onion in the oil until soft and brown. Add the ginger and fry until golden.
Next add the chopped tomatoes, salt, turmeric and garam masala. Season with salt to taste.
Add the tamarind paste and cook down for 5 minutes.
Add this mixture to the chick peas, bring to the boil  and carry on cooking for around 10 -15 mins until mixed well.
Stir in the fresh coriander and chillies.
Eat and Enjoy!