Anupreet Attridge shares with us her childhood memories of time spent at the Gurudwara (Sikh Temple) and her love of Ma Ki Dhal Sabat as a result.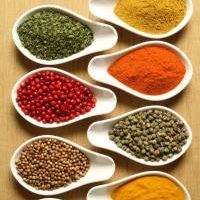 A Dhal From My Roots….
"As a young child living in London, I have fond memories of being collected from nursery by my Mother, Aunties or Uncles, before going off to the shops. Normally, before leaving I would ask, 'are we going to the Gurudwara?". I loved it there. We would spend some time in the prayer hall, say hello to people we knew. But what really excited me the most was the "Langar." So, there I was, pestering my mother for the 'Langar' which literally translates as 'Free Kitchen'.  Meaning anyone who visits the Gurudwara receives a meal without any discrimination or charge.
Out of all the dishes at the Langar, my all time favourite was, without a doubt, the Ma Ki Dhal Sabat, a creamy Black Urid lentil dhal.
Whenever, I have it now, it reminds me of my childhood, my maternal family and my lovely Gurudwara visits as a child. So I sat with my mother to make this dhal and write the recipe. This recipe is for Inderpal, my mummy, for teaching me how to be strong and proud."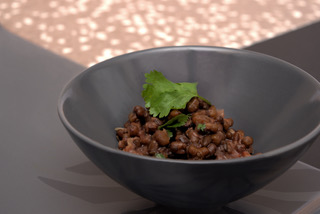 This dhal serves 4, and the secret is to cook it slowly.
Ingredients

250g Black Whole Urid Lentils, cleared of stones
2inch Ginger, scraped and crushed
4 Cloves Garlic, crushed
1 tb Rapeseed Oil
1 Medium Onion, finely chopped
2 Medium Vine Tomatoes, diced 1t sp Himalayan Salt
1/2 tsp Asafoetida/Hing
1 tsp Cumin Seeds
1 tsp Ground Chilli
1 tb Ghee
2 tb Single Cream – optional
1 tb Chopped Coriander
In a large saucepan over a low heat, cook the black whole urid lentils in three litres of water for half an hour.
Add one inch crushed ginger and two cloves crushed garlic to the cooking lentils, continue cooking on a low heat for an hour, till the water has reduced.
Add another litre of recently boiled water, from the kettle. Add chopped tomatoes, salt and the remaining one inch crushed ginger and two cloves crushed garlic and continue to cook for a further 30 minutes.
To do the tempering use a small saucepan, heat the oil over a medium heat. Add the chopped onions, Asafoetida, cumin seeds and chilli powder and fry for two minutes.
Pour the temper straight into the dhal, stir and cook for a further one minute.
Stir in the ghee, single cream (if using) and coriander.
Enjoy with boiled basmati rice.
If you enjoy dal, you can check out the British Dal Festival website for lots of dal related events happening from 17th -24th March 2018.