Sarah Deininger will be cooking at our Swabian  (Southern German) supper club on 9th May 2019. She's given us this beautiful Christmas braised red cabbage recipe, which is traditionally served as a side dish.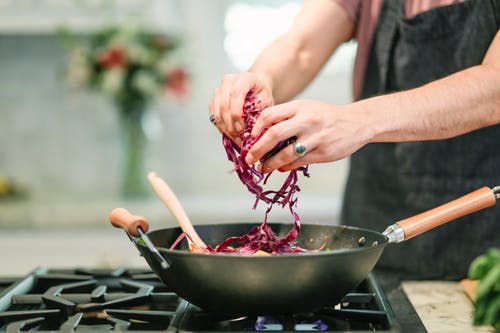 The region of Swabia was a political territory in the Middle Ages. Today its borders aren't perfectly clear, but it is found partly in the German state of Baden Württemberg, partly in the German state of Bavaria, and even stretches into Austria.
Food in Swabia is world-renowned and is often described as very hearty and rich in tradition. Recipes have often been handed down from generation to generation.
Important in Swabian cooking is pasta (such as Spätzle and Maultaschen). Variations of fresh pasta are served as main dishes as well as side dishes. Either way they are never eaten dry – a hearty sauce, broth, or at least some melted butter is a must!
Wintery Red Cabbage Recipe
Ingredients:
2 kg shredded red cabbage
6 apples finely diced
1 cup of caster sugar
125 g fat (traditionally it's lard, but plant fat should work alright)
1/4 cup salt
3/4 cup white wine vinegar
2 bay leaves
8 whole cloves
plain white flour
tea filter
Method
Melt fat in a large pan
Add cabbage and apples, braise for a little while
Add sugar, salt and vinegar, give it a good stir
Top pan up with water (you should just about see the water around the cabbage)
Put cloves and bay leaves in a tea filter, close with a bit of string and give into the pan lid on, stew for 2 hours on medium heat
Stir a handful of flour into a pint of cold water
Add to cabbage and let it stew on medium heat for 8 minutes (with very frequent stirs)
Remove tea filter and season with more salt, sugar and vinegar to taste