This week we have a very special recipe as Kalpna Woolf, founder of 91 Ways, shares the story of her mum's wonderful Curcumin Loaded Chana Dal with us.
"We know that dal is a staple for millions of people across the world, giving daily and often much needed all-round nourishment, but dal is also a fundamental symbol of the culture of a community. It is a cultural touchstone and as such, it is with pride and affection that dal dishes are placed on a table of food (at the centre, not as a side-dish) and recipes lovingly handed down generation to generation. Dal is a feature at feasts, holy days, and occasions both happy and sad. It is my go-to ingredient when I want taste, comfort and a connection back to my heritage, and it's what I love to spend time cooking for my son and family.
This is my mum's recipe – Chana daal is a 'meaty' daal with a wonderful texture which we would look forward to eating as a family. It is a traditional North Indian dish and provides vitamins, protein and iron. Importantly, this dish provides a double hit of turmeric as it is added to the daal when boiling, and again to the a sauce. Turmeric is a true power spice packed with antioxidants and helps to ease inflammation. Every day new research findings are showing the positive health effects of turmeric. This recipe also includes chili, ground coriander and cumin – all wonderful health-giving spices, so each mouthful will not only taste delightful but also fuel you with goodness.
This dal can be either eaten as a one-bowl dinner or as a soup. It tastes even better the next day – so make double the quantity."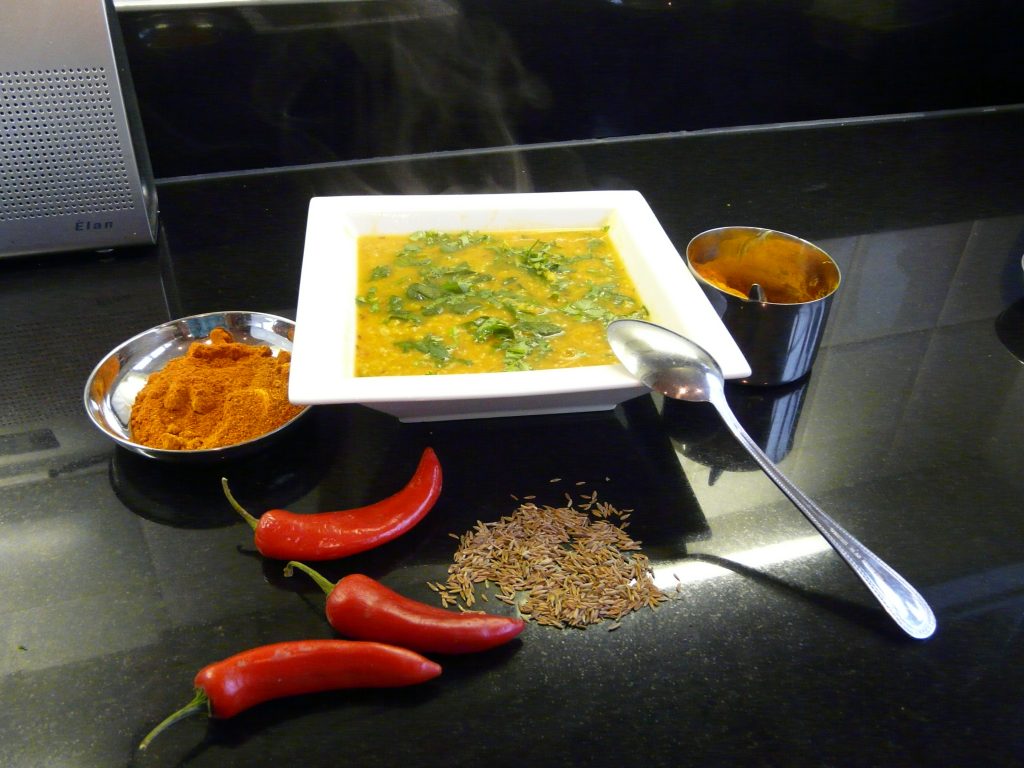 Ingredients
For the dal
200g/7oz Chana daal
2 litres/3 ½ pints cold water
2 tsp ground turmeric
For the sauce
2tbsp olive oil
1tsp cumin seeds
2 garlic cloves, finely chopped
5cm/2in piece fresh ginger, peeled and grated
1 medium onion, finely chopped
28g/1oz. fresh coriander (cilantro), stems and leaves chopped separately
1 green chili, finely chopped
1 tsp. ground coriander
½ tsp. chili power
¾ tsp. salt
200g/7oz. canned chopped tomatoes
1tbs. tomato puree (paste)
4-5 tbsp. warm water
160g/5 ½ oz. young spinach leaves, roughly chopped

Method
Rinse the daal so the water runs clear, then soak in a bowl of cold water for at least 2 hours, or overnight.
Bring the water to the boil in a large saucepan. When the water starts to boil, add the daal and 1 teaspoon ground turmeric. Partially cover the pan and cook over a medium- high heat for 30 minutes. The water may need skimming.
After 30 minutes, turn up the heat to high and cook for a further 1—15 minutes until the daal is soft and the water is absorbed in the daal. The daal should retain its shape but still be soft.
Heat the oil in a deep frying pan over a medium heat. Add the cumin seeds and, as soon as they start to they sizzle, add the garlic and ginger. Mix for 1 minute then add the chopped onion, coriander stems and green chili and cook for 4-5 minutes until the onion is soft and almost brown.
Add the spices – the remaining turmeric, the ground coriander, chili powder and the salt – and stir through for 1-2 minutes.
Add the canned tomatoes and juice and the tomato puree, then add the warm water and leave to meld together for about 10 minutes over a low-medium heat until the tomatoes are mashed down and the sauce is thick.
At this stage, add the spinach leaves and cook for 1-2 minutes until wilted.
When the daal is soft, spoon the sauce into the daal and simmer for 5-10 minutes. The daal will thicken.
Mix in the coriander leaves and serve.