I'm a Canadian living in Bristol. Like many Canadians, when you look a few generations back, I'm made up of a mosaic of different cultures. Evodkia Rudy, my Ukranian great-grandmother affectionately known as Babu, was born as a Ukrainian peasant on March 14, 1889. Like many poor peasant women, she never went to school or learned to read, but she had a wonderful memory for recipes.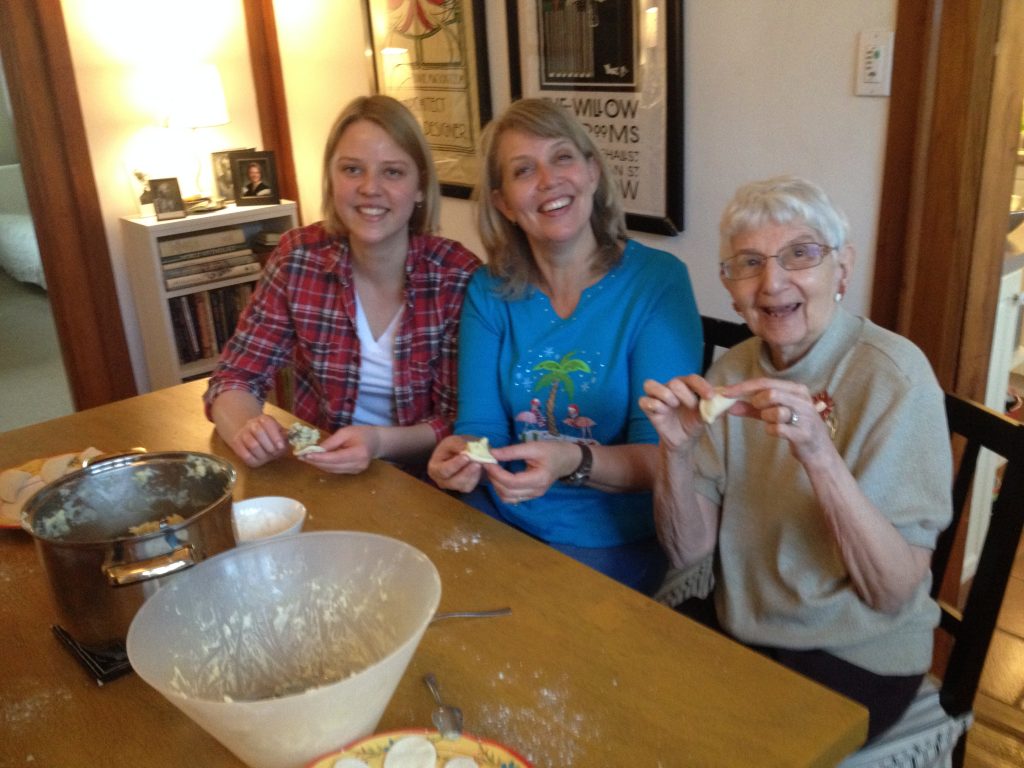 Babu emigrated to Canada in 1910. Her home gardening and cooking skills got her young family through the Great Depression in the 1920s. She grew cabbage and would make large barrels of nutrient-rich sauerkraut to last them through the winter. My mom, Lori, was so influenced by this family gardening tradition that she has pursued a career focused on creating local, healthy, and sustainable food systems.
After the depression, times got better. Babu was a fabulous cook and would make feasts for the growing family. My mom and aunt still fondly remember weekly dinners of borscht (beet soup), kapusta (sauerkraut), holobtsi (cabbage rolls), and perogies (dumplings). Babu made everything by hand.
Babu passed away in 1974, so I never had the chance to meet her. But I met her cooking! My great-aunty Pat passed the recipes on to my Aunt Sandi, who finally wrote the recipes down so they wouldn't be lost to changing times.
Every year before Christmas, I make perogies with my family. For me, Christmas perogies mark the passage of time as I become a more competent chef, as I fondly remember how enthusiastically my late-grandpa made the perfect potato filling, and as I struggle through Ukranian phrases my grandma teaches me like 'Hrestos Narodevsya' (Christ is born/ Merry Christmas). Perogies also connect me to my future as I imagine making them with my future children and grandchildren. That's the power of food, isn't it? It brings us together in in space, in time, and in love.