We hope you enjoy this heartwarming Indian kedgeree. We asked Reena to tell us a bit about her relationship with cooking and how her heritage has influenced her cooking style.
"My parents immigrated from New Delhi, India to start a new and exciting life in England. We siblings were born and bred in England and very much grew up in an environment that straddled both cultures. This was mostly reflected in the food we ate. Mum would add onions and fresh green chillis to baked beans or the roast chicken would have an Indian spiced rub.
At university I got into cooking, later as a mother I wanted to feed my children some of the food I grew up eating. Our childhood was filled with parties and gathering and the table groaned under the weight of food. Cooking food from my heritage helps me and my family stay connected with the culture my parents left behind.
Of course Indians are generally feeders and not happy unless everyone is full… I have the same approach to food, I love to share…"
Kedgeree is a dish created during the days of the Raj, usually consisting of rice, egg and smoked fish.
This recipe feeds 10 and can easily be halved or quartered.
Ingredients:
375g white basmati rice
30g butter
2 tablespoon of flavourless oil (light olive or rapeseed)
10 eggs
500g smoked haddock
1kg red onions
10 garlic cloves
2 knobs of ginger
1 tsp cumin seeds
1 tsp fennel seeds
7 cardomon pods
Pinch of chilli powder(optional)
5 bay leaves
1 1/2 tbsp tomato puree
1 1/2 heaped tsp curry powder
large bunch of coriander with stalks
1.25 litre chicken stock (stock cubes are fine)
300 ml double cream
The Sauce
Slice the onions, garlic and ginger.
Add the butter and oil to a large pan.
Once the butter has melted, tip in the onions, garlic, ginger, spices and bay leaves.
Fry over medium heat for 10-12 mins until the onions colour.
Stir in the puree, curry powder and coriander stalks, then cook for 5 mins until everything is sticky.
Pour in the stock and cream, season, stir well, the
Strain through a sieve into a bowl.
Pick out the bay leaves and any cardomon shell and add a 1/3 of the onion mixture back into the sauce.
Add the flaked haddock to the sauce and simmer until the haddock is thoroughly heated through – about 5-7 mins.
The sauce can keep covered in the fridge for up to two days.
The Rice
Rinse the rice in several changes of water, until the water runs clear and is no longer cloudy.
Put in a pan with enough cold water to cover it by 1.5cm.
Bring to the boil, then cover and reduce the heat.
Cook for 10-12 mins, turn off the heat and leave the pan covered.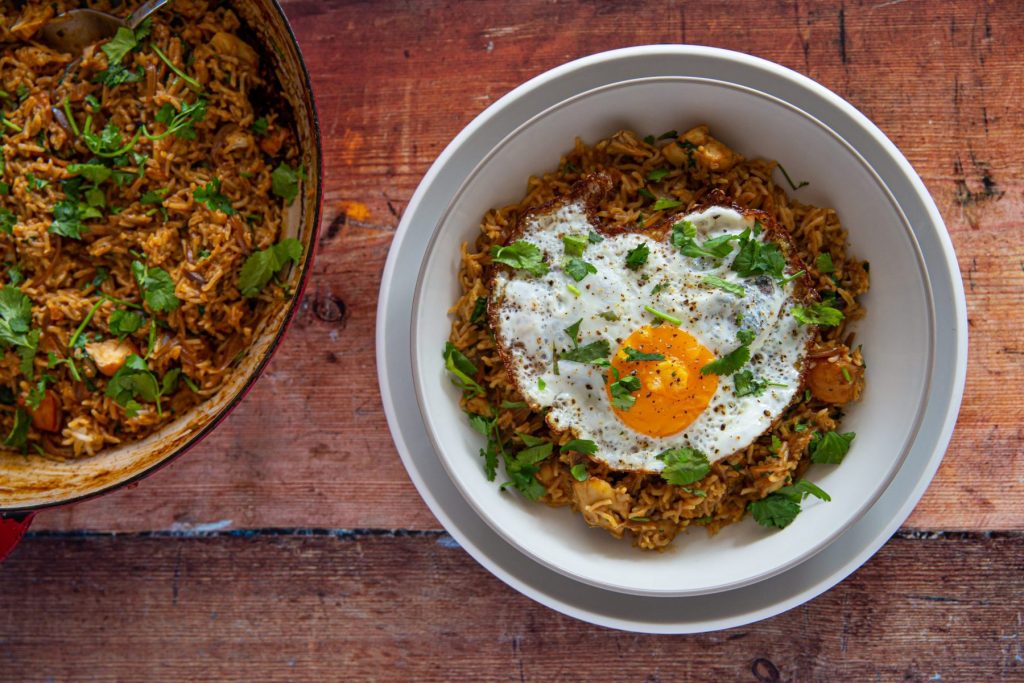 To Serve
Chop the coriander.
Reserve some for the garnish and stir the rest gently into sauce.
Add the cooked rice, then spoon into bowls and top each bowl with a seasoned fried egg.