Reena from Reena's Rasoi shares us with us her Makhani Dal recipe, a wonderfully delicious dal that is traditionally prepared at times of celebration.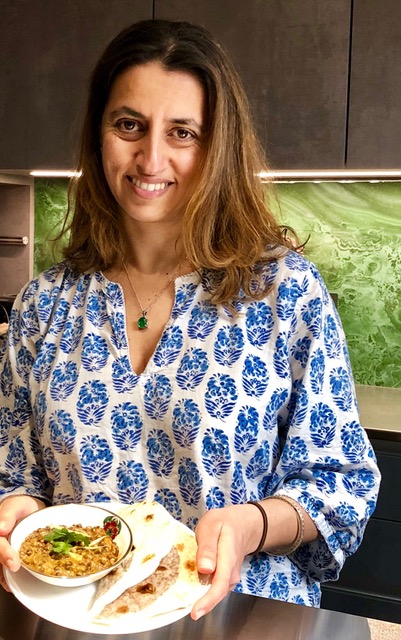 "This is one of my favourite dals, the Punjabi name is Maa di dal (Black Urad dal). When you add butter to dishes made with this dal is it known as Makhani Dal because of the rich creamy texture from the butter added to it. It is a celebratory dal, as it takes time but is not difficult. Make it on a day when you have time to let it cook slowly and note that the dal needs soaking overnight so plan ahead for this."
Serves 4
Makhani Dal
Ingredients
175g whole black urad dal
1/2 tsp chilli powder (or more or less according to your own preference)
1 black cardamon
a 1 inch piece of cinnamon stick
2 tsp ginger paste (if I don't have fresh paste, I use frozen cubed paste)
2 tsp garlic paste
2 tablespoons tomato puree
1 heaped tsp fresh ginger julienned
50g butter
fresh coriander leaves to garnish
salt to taste
Method
Soak the dal in water overnight. The following day wash the dal in water until it runs clear. Put the drained dal in a pan and add fresh water so the dal is covered with 2cm of water. Add the chilli powder, black cardamon and cinnamon. Bring to the boil, cover the pan with a lid and turn down to simmer for a minimum of two hours, keep an eye out and top up with water if necessary. You will know when the dal is cooked when it is completely tender and there is no bite. Use the back of a spoon to crush some of the dal to enhance the texture.
Next add the tomato puree and ginger/garlic paste, along with salt to taste cook for a further 45 mins (simmering). Take off the heat and add the julienned ginger and butter. Serve with chapattis or similar.