Lisa Cadd of Fuss Free Foodie shares with us her Golden Courgette Allotment Dhal recipe.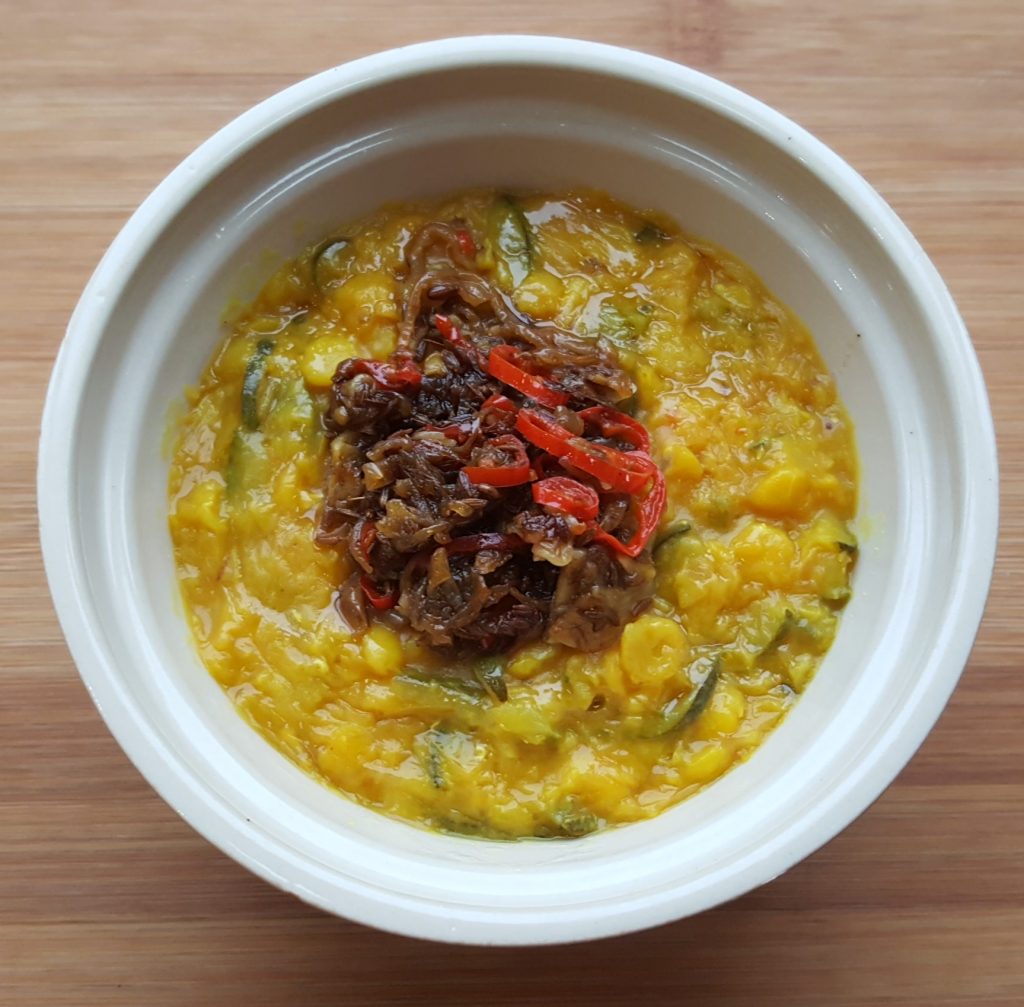 "This dhal recipe was borne out of a glut of yellow courgettes on my allotment last summer. I thought I'd planted equal quantities of green and yellow plants…but it seemed not! All yellow!! I had exhausted as many courgette dishes savoury and sweet as I could muster….and then came up with this one. I can always eat a dhal a week, so I thought I'd bring the two together. You could easy use green courgettes instead though…don't let that stop you!"
Courgette Moong Dhal
Ingredients
1 cup of Moong Dhal/yellow split lentils, well rinsed in water and drained
Heaped tbsp. grated ginger
1 tsp turmeric
3 1/2 cups of water
2 medium ripe tomatoes, chopped
2-3 medium yellow courgettes, sliced (or green if only available)
Temper
1 shallot, thinly sliced
1 red/green chilli, sliced
1-2 tsp cumin seeds
2-3 garlic cloves, thinly sliced
5-6 tbsp. butter/ghee/oil
½ tsp. salt
(Optional 1/2 tsp garam masala, 1/4 tsp chilli powder)
Method
Put the lentils into a medium sized saucepan with 3 cups of the water (retain the rest for later). Add the turmeric, tomatoes, and ginger. Stir, and bring to the boil and then return to simmer. Stir occasionally and add more water if it dries out or starts to stick.
The lentils are ready when they are broken down and the dal has a porridge consistency. This should take about 30 minutes. Add the courgettes at this stage and let them cook in the dal for up to 10 or even 20 minutes. I quite like the courgettes when they are breaking down. But you could keep them more intact if you prefer. Add a little water if is drying out. Season with the salt. It's not going to do any harm cooking it for longer, just keep adding bits of water if needs be.
In a separate frying pan, add the oil/butter and raise the temperature to medium to high, so that you can add the cumin seed and fry for a couple of minutes with the shallot. It is OK to get the shallot brown, but turn down to a medium to low heat when you add the chilli and garlic. This doesn't want to be brown, just cook for a further minute or two.

Add the garam masala and chilli powder if using here.
Add the temper to the lentil mixture, stir in thoroughly. Check the seasoning for any more salt, and serve with chapatis, rotis, nan or rice. I only had pittas and that worked well too!!