1st July Balkans In Peace Supper Club at Cookpad
£40.00
One ticket for our 1st July Balkans In Peace Supper Club at Cookpad 7:30pm start.
5 in stock
Description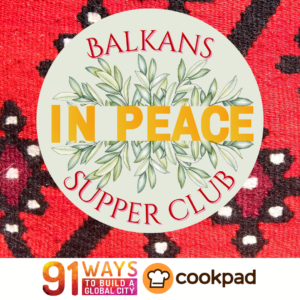 Our first Peace Supper Club will be held at Cookpad on 1st July at 7:30pm! We will be presenting food from all over the Balkans to represent the unity and commonalities between countries with fraught backgrounds.
We have some incredible cooks bringing you Balkan feast! 91Ways are partnering with Cookpad in their lovely space in central Bristol to prepare you a 5 course meal, cooked by our wonderful friends Stela and Dino, with Milica adding a special Serbian dish.
Early bird tickets cost £35, until 28th May when the full price ticket will be £40 with 10% of all ticket sales going to the Red Cross Ukraine Crisis Appeal, and the rest towards our community work.
Cookpad is a free online recipe-sharing platform that embodies our values of building an inclusive community with home-cooks from all over the world. It's a fun place to share your recipes with no pressure to make them look fancy, and there are so many new recipes to discover! You can download the app or sign up at cookpad.com. We're making our own account so you can follow us and make the recipes we share, if you like!
We are so looking forward to seeing you there!
Any questions, please get in touch- info@91ways.org